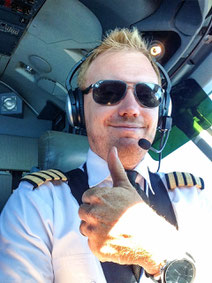 And so begins my last flying week before a much anticipated and awaited summer vacation.
Since I am Swedish, its part of my DNA to want to stop working during the month of July.
Every summer, as the days grow longer and the weather starts getting better, I get this REALLY strong urge to just chill out in the hammock with a nice drink and listening to good music. 
Of course, being an airline pilot means that I have to work when everybody else wants to go on vacation. It is a very rare thing to manage to get Annual Leave during the summer months and I am really grateful that my company have granted me 2 weeks this year. 
Anyway, this last week of flying is full of great destinations and since the weather is great all over Europe it makes for some quite stunning scenes.
Yesterday I flew from Girona to London, then back to Girona, on to Rabat in Morocco and then back again. A very long day but it meant that I got to see London, Paris, Barcelona, Valencia, Alicante and the Straight of Gibralatar from the air, all in one day!
Unfortunately we had a small delay in Rabat and because of the long day it meant that I could not fly the long day I was rostered to do today so here I am, writing to you instead.
In a few hours I will get ready for a short flight to Sicily and back.
I hope you are all having a fantastic time and that you all have some summer vacation to look forward to.
I will be back with more blogposts shortly, make sure to tell your friends about this page and I hope you have all checked out my app and given it a fair review in the appstore. :)
Take care!